Office Relocation Services
Moving office can open up new possibilities and provide a fresh start for any business, but it can also be a stressful experience to plan and execute an entire office move. At Saracen Group, we have a highly trained office relocation team who can take the hassle out of moving offices for you. From creating an office move project plan through to unpacking and reassembling furniture, we can ensure that moving from one office to another runs as smoothly as possible.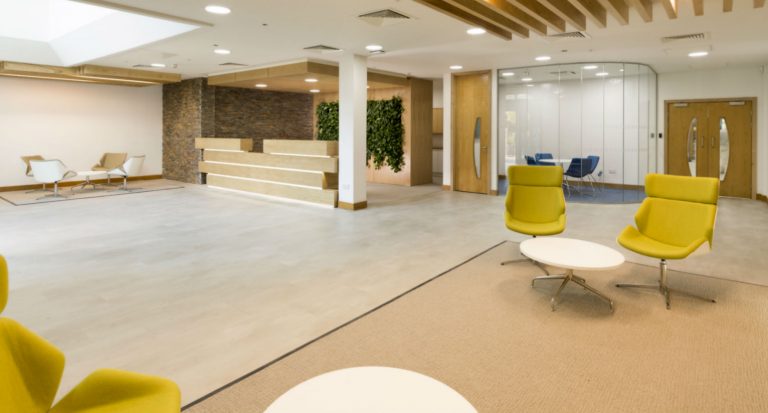 The benefits of moving office
Whether your lease is coming to an end or you have simply run out of space, there are many reasons why you may be considering an office move. Sometimes, however, it's not just about the necessity. There are many benefits your business may reap from taking the plunge and finding somewhere new.
Utilise your space better – As your business grows, you may find yourself trying to fit desks and other furniture into a space that isn't suitable. With an office move, you can rearrange your furniture and utilise your space better.
Room to grow – If you're upsizing your office space, then this will give you room for growth as your business expands. Try to project your long-term goals and ensure you have enough space to grow into.
A fresh start – If your business is feeling a little stale, then perhaps moving offices is just what you need. An office relocation can act as a fresh start with a blank canvas to work from.
Enhance your brand – Moving offices can also give you the opportunity to enhance your brand and image. Before you move all of your furniture in, you may want to consider designing a new office space that better reflects your brand.
How Saracen can help your office relocation
Our expert office relocation team can provide a professional and efficient service, that covers every aspect of moving office. Whether you want us to take over the whole move management or just need some help with the move itself, we are here to make life easier every step of the way. Here are just some of the services Saracen Group move management team can provide:
Office move project plan

Supplying crates and packing materials

Packing and unpacking

Interim storage

Inventory management

Transporting IT and fragile equipment

Dismantling furniture and reassembling at the other end

Disposing of and recycling any waste

Office design and refurbishment services, if required
By using Saracen Group for your office move, all you need to do is move your team from the old office to the new. Your new workplace will be ready to go, and there doesn't need to be any interruption to your business activities. In fact, we can provide our office relocation services in the evenings and over weekends, if required, and often at short notice.
Why use office movers
Moving office can be a stressful experience, that can often lead to losing valuable working time. An office move can also impact your customers and clients, and could even result in a loss of profits. By using an office relocation team that is professional and experienced, you don't need to worry about a thing. Saracen Group will do all of the heavy lifting, quite literally, so your office move runs as smoothly as possible. Using an experienced office relocation team can also work out more cost-effective, as you're not wasting valuable time trying to move offices yourself. Your business also won't need to outsource to various different service companies for moving, assembling furniture, refurbishment, getting rid of waste or cleaning an old office space. We can provide a full move management service that ticks all of the boxes for you.
Whether you're looking to spruce up one room in the workplace or need furniture for your entire workplace, Saracen Group can help. Get in touch with our furniture sourcing specialists and start building the dream office environment.