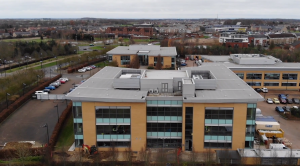 Revamping Carl Zeiss: 50k Sq Ft Global Office Fit-Out
Saracen Interiors is now reaching the end of a substantial fit-out project for Global Technology company Carl Zeiss.
The interiors company is transforming c. 43,000 sq. ft. of office space plus undertaking a range of external works at a site in Cambridgeshire to create a world-class lean manufacturing facility, including a clean room, where Carl Zeiss will make electron microscopes for sale and distribution worldwide. The fit-out of Building 1030 at Cambourne Business Park covers three floors.
Clive Longden, Saracen's Site Manager, said: "It's a complex project with some significant challenges, but working closely with our client, the team has successfully met these challenges, and we are now on track for completion and handover on time."
Saracen won the project in a competitive tender against strong competition, further cementing the groups presence in the industry.
The team is managing a full fit-out of office space on floors one and two, as well as installing all-new kitchens and breakout areas. The first floor also includes a technical area for research and development that has required particularly careful design.
But the toughest challenges have been on the ground floor where building a clean room for the production of the electron microscopes threw up significant mechanical and electrical hurdles as well as issues of coordination that the Saracen team has had to overcome. As well as the advanced M and E work, the project has required the installation of a range of specialised equipment, including cranes. Saracen has also installed an external goods lift as part of the project scope of works.
The project came about as a result of significant local business growth together with increased global demand for the products and services of the two Cambridge based subsidiaries of the Global Carl Zeiss group.
Carl Zeiss Microscopy Ltd and Carl Zeiss Ltd, wanted to combine operations and move from their two current premises in Cambridge, to a single facility and as a result have signed a long-term lease at Cambourne Business Park
Saracen is managing the project so that staff will be able to easily transfer into the newly-revamped premises and to provide Carl Zeiss with room for further future expansion.