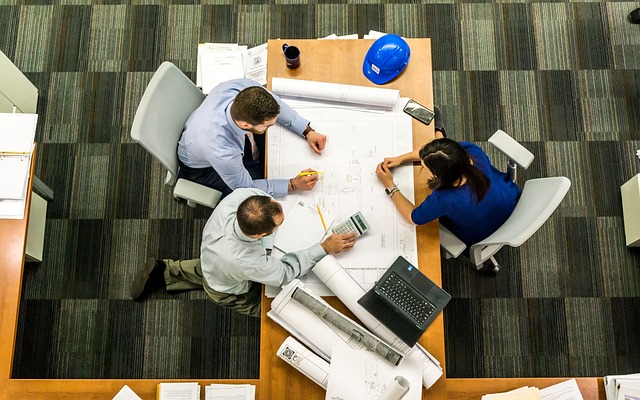 The Ultimate Guide To Office Interior Design
You work in a tatty office. The furniture doesn't match, it's uncomfortable, and the layout isn't really practical. There isn't a colour scheme as such, just a random selection of bits and bobs that clash with each other. It looks and feels cheap, and to be honest it makes your heart sink a little bit every time you walk through the door.
You work in a smart office. The furniture is comfortable, ergonomically suitable for the work you do, and it's carefully colour-coordinated so the space looks fresh and professional. Your desk is fit-for-purpose and everything looks so good you're motivated all over again, keen to get to work. The environment actually helps you collaborate better, be more creative and increase your productivity.
As an employee, which situation would you prefer? Most people like to work in an appropriate space that is comfortable, designed with the people who work there in mind, a place that puts their well-being put first. As an employer, you probably want the same thing, since happy, comfortable, cared-for employees are invariably more productive than unhappy, uncomfortable people whose needs are relegated to second place. You know the old saying, when you look smart you feel smart? It's so true.
This is our ultimate guide to office interior design. If you're in the market for commercial interior design and want to boost your productivity and improve your bottom line, read on.
What do you need to think about when designing your office?
You can't make improvements unless you can first put a finger on what's gone wrong with your current office interior design. The first step is to examine the way the existing space works, or doesn't work, and observe how people use it. Careful observation will reveal the gaps you need to fill, and the changes you might want to make.
It's also vital to actually ask your employees what they think. After all, they're the people who work in the space, on the shop floor so to speak, and they have to deal with the problems inherent in its design every day. Ask people what they like and dislike about the current office design, how they feel working in it, what can be improved. Find out whether the space hinders or supports them. And make the survey anonymous if you want truly honest answers. There are hundreds of free survey tools available online, all of which make it easy to quiz people enjoyably, quickly and effectively.
Thirdly, you'll need to carry out a special quantitative spatial analysis to examine the way the space is used in reality. It's important to bear in mind an interesting human phenomenon – the way people see their environment and the way they actually use it are often very different. How much time do people spend at their desks? Are there enough meeting rooms? If they're almost always empty, can you do without a few of them and maybe open up more office space instead? Do you still need a filing cabinet or filing room when everything has gone digital?
Once you've done all that you'll know what isn't working. You'll know how your employees feel. And you'll know which areas of the space are used the most, by the most people, when and why. All this means you can confidently base your new office interior design on real evidence, not assumptions. And because you have the buy-in of your staff, who have been involved from day one, you're more likely to achieve the kind of space everyone needs, the kind of space that encourages better work and a better bottom line.
You can find out more about our Office Design services here. (link back to the service page)
How does commercial interior design affect company culture?
The phrase 'corporate culture' describes the belief system held by the company's bosses, managers and employees. It is affected by the company history, products, market, audiences, technology and marketing strategy. Plus, of course, the working environment. So how does office layout and design impact corporate culture?
Some designs foster more employee engagement than others. You can imagine how negative and unsatisfied a grubby, crowded, uncomfortable workspace leaves employees feeling. Those old-school cubicles in open plan offices, for example, can make people feel isolated and de-humanised.
When you spend upwards of eight hours a day in an office setting, five days a week, that negative effect can become powerfully oppressive and unpleasant. When the layout and design of your workspace supports the mission of your business and is conducive to success, you're much more likely to succeed.
People's expectations have changed dramatically since the advent of the internet, the computers we use to access it and the IT networks our businesses depend on. People increasingly wanting to work in attractive, flexible, fit-for-purpose workplaces that provide the choices they expect, let them work in a variety of ways and improve their productivity.
A collaborative workplace is often the answer, one that fully supports a contemporary working culture. You might discover that a blend of standing stations, desks, hot-desks and break-out areas supports the culture of your new tech start-up. As a traditional legal partnership, on the other hand, your office setting might look and feel very different. The trick is to make sure the design dovetails with the unique culture of the business in question. In our world, no size fits all. There's no such thing as a cookie cutter solution.
Layout and design set the mood of a company. When you provide gathering places, people happily gather, something that encourages a stronger work community. Open spaces drive interaction and creativity. And unconventional interiors of the kind you find in innovative digital businesses like advertising agencies inspire bright ideas.
What Modern corporate office interior design features should you consider?
Modern office and industrial office interior design is very different from the traditional way of doing things. Just two decades ago there were still plenty of businesses running perfectly well without computers, the cloud, databases, servers and IT networks. You need to take all of that tech into account and make sure it's safe to be around as well as easy to access and use.
It has been proved that standing up to work can be much more comfortable for some people, especially those with back issues. You might want to think about installing some standing stations. And ergonomic chairs are vital, a reliable way to protect the well-being and health of employees who sit at screens all day.
There are optimum desk configurations for all sorts of different situations, some in groups and others stand-alone, either L-shaped or modular, individual desks or seating for multiple workers, for example call centre desks.
You might want to fit a typographical wall of inspirational sayings, or provide a large public whiteboard for people to jot ideas on. If your business is particularly creative you might want to provide cosy break-out areas with colourful settees or even floor cushions where ideas can be hatched and discussed. A smart reception desk makes all the difference to the first impression you make. And working alongside living plants and greenery makes people feel great.
What type of office furniture should you buy?
Today's commercial interior design trends are rich in colour. We'll provide a choice of furniture options from our preferred suppliers, all ergonomically designed and based on your operational requirements, the amount of space there is to play with, and your brand's livery. We can also look at fabric and textures for you, dream up themes, and give you plenty of bright ideas to help make your dream office interior become real.
How about storage? You might need traditional metal filing cabinets, wooden chests of drawers, or something completely different. The seating? As a company with a workforce that varies in number, or with limited meeting space, you might want to invest in stylish stacking or folding chairs. You might buy supremely comfortable '24 hour chairs' for your hardest workers. Maybe you want some executive chairs for the management and new, comfy meeting room chairs.
Conference tables, glass desks, boardroom furniture... we deal with all of it, and we know exactly where to get the very best deals on your behalf. Screens are handy for segregating different functions and departments or for privacy. Smart reception chairs help you make an excellent impression. Perhaps you have a works canteen that could do with a facelift? If you're in the market for an industrial make-over we even tackle large industrial office interior design projects.
Let's talk office and industrial interiors
Whatever you want, we'll work closely with you to develop every aspect of your office fit-out, taking into account everything from colour psychology to ergonomics to workplace mindfulness and well-being. Your new space will not only look the part, it'll also ensure your people are as happy, healthy, and productive as they can be.