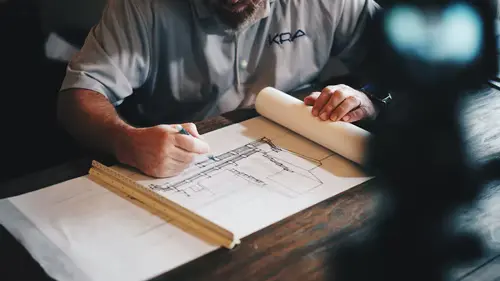 Are you a business manager looking to purchase property for your company in the UK? Many premises up for grabs are looking a bit worse for wear lately, but fear not! With Saracen's office refurbishment services, you can choose between a Category A or a Category B fit out to spruce the place up and make it a welcome home for your valued team members.

But Firstly, What Is Category A and What Is Category B?
Essentially, the difference between Category A and Category B comes down to the level of changes made to the building. If category A is the basic non-negotiables of an office space, then category B is the complete installation and finishing touches.
Category A may include mechanics, electrics and plumbing, lighting, fire detection, partitioning, air-conditioning, window blinds, floor coverings and built-in storage.
Category B is much more of an intensive job and includes IT and AV installations, conference or meeting room facilities, specialist lighting, carpeting, all the way down to the placement of the furniture and the choices of art that goes on the walls. Importantly, Cat A fit-outs are typically carried out by the landlord of a building or premises before renting or leasing it out. A fit-out completed by a building's occupier is typically a Cat B. If you do not own your building, you may wish to work together with your building's owner, depending on whether your company premises is more in need of a Cat A or Cat B fit-out.
As a business manager you're no doubt looking at your bottom line and wondering how best to save money when choosing between a Cat A or Cat B fit out. Unfortunately, modern times are not on your side. In the wake of homeworking and the increase in remote working expectations, employers are more on the back foot than ever before, fighting the new generation of workers' expectations of what office life should really include. After all, employees who have got used to working in their own comfy homes might need a little convincing to get back on the commute again. Gen Z have not long entered the workplace and they may be raising the bar higher than any generation that has come before them.
Cat A Or Cat B Fit Out?
Cat A is no doubt the cheaper option – there is much less work to be done. Cat A allows companies to have full control and creativity over their office and where exactly they want everything to be, which then could lead on nicely to a Cat B. Cat As are quicker to complete, and also allow a business a functional space to continue operating in whilst the building occupier (the business owner, in this case) decides on the details of the next-stage Cat B.
On the other hand, Cat B allows businesses to tailor their office towards their workforce and their workforce's needs, allowing for a much faster transition back into the workplace after a long two years of homeworking. If you're going to leave your sofa with that laptop, let's hope you're leaving it for a very plush office chair, a nice wide desk, some great oxygen-rich office plants, a good quality air-con, and lights that don't burn your eyes when you glance up at them! Finally, Cat Bs are the superior option for business managers who have already moved into their premises – and if you are reading this article, then chances are, you have!
With this in mind, the savvy business owner would be well advised to lean more towards a Category B fit out of their new premises. Although it is not the cheaper of the two types of fit out, the majority of buildings already have completely functional facilities and require very little work to improve upon, so why not spend your money wisely and splash out on updating the face of your office instead with a Cat B fit out that'll have all your millennial and Gen Z workers abandoning their kitchen tables and instead fighting over your brand new cappuccino machine?
Office Design Fit Outs For Your Dream Team
Workers' rights are being fought for and the allure of homeworking is very strong, so give your team's homes the competition they'll really struggle against, with a Cat B fit out. Saracen can advise you on exactly what you can do to refresh your business premises and make it fit for a dream team! Contact us here.
Image Source: Unsplash