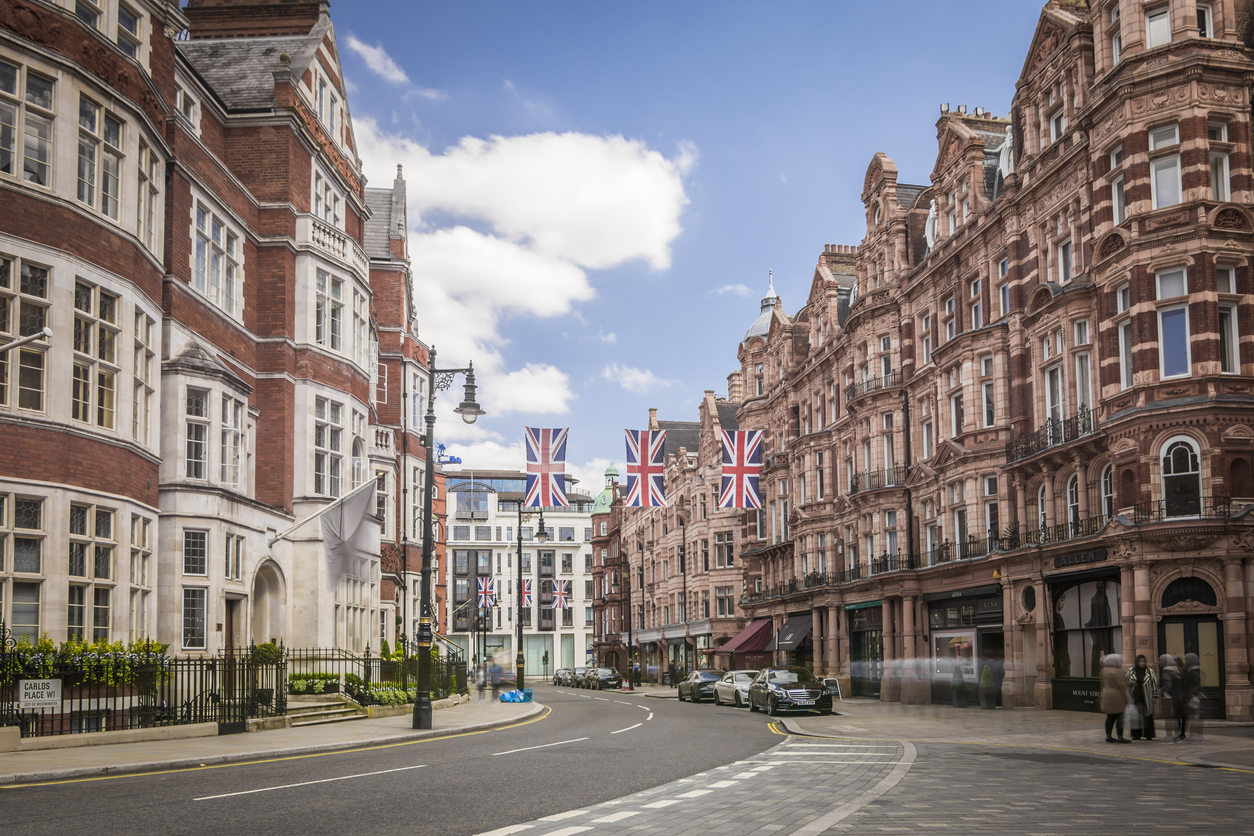 Advance to Mayfair: London's Most Exclusive Interiors
London's Mayfair – the sophisticated heart of the capital, home to the most exclusive boutiques, lavish residential properties and fine-dining restaurants that the city has to offer. Establishing itself as a luxury district since the 17th century, Mayfair continues to embody British class and finery – and Mayfair office design is no exception. No matter the sector, businesses in this upscale area are epitomising their brand identity with their opulent London office design, so look no further than this article to explore some of the ways that you too can transform your workspace to embody your company's modernity and sophistication.
Making a statement
Minimalism screams sophistication. It is important not to overcrowd a high-end workspace with intense patterns that overstimulate, but you don't want a boring, lack-lustre office either. Instead, opt for feature furniture or a feature wall that creates a modern, expensive look that doesn't overpower the elegance of the room. We see this in our recent design and fit-out project for private equity firm AGIC Capital on Berkeley Square, Mayfair.
A stunning, white and grey forest wallpaper

that perfectly draws together the all-white space, breaking up the solid colour with a

muted, yet chic statement piece.
Embracing Tradition
Does your office building have remnants of extravagant Georgian architecture? If so, you're already on your way to a highly sophisticated office space. In a recent refurbishment of the English Speaking Union (ESU) headquarters, a stunning heritage building in London's Mayfair with period features on its ceilings, work was carried out meticulously, ensuring the original design work was preserved.
Not only are these features important in the preservation of historical builds, but period features and traditional architecture are exceedingly on-trend within luxe interior design. Ensuring that these features are a focal point to your office space is integral to creating a work environment that exudes affluence and prestige.
Let there be light!
With sufficient lighting being an obvious essential for any workspace, the design element is often overlooked. In reality, elements such as chandeliers, feature lighting, floor lamps and wall lights can add a luxurious, high-end touch, diminishing the corporate look found in more basic offices.

A perfect example of this can be found again in the recent AGIC Capital workspace, where a custom-made pendant light hangs above the meeting table, providing a captivating feature to draw the eyes of visitors and inspire employees. The use of a stylish, white floor lamp and wall lights in this space give a luxurious living-room ambience – a tone that is growing in popularity within office spaces since the surge in WFH positions.
Whether it's traditional elements that create a timelessly chic ambience, taking inspiration from the high-end minimalists or a stunning statement chandelier, the sophisticated office update for your company can be just around the corner. Think your workspace could use a Mayfair make-over? Contact us today for more information on how we can make it happen!
Head Office: Saracen Group Ltd, Unit H, Manawey Business Park,
Telephone: +44 (0)870 743 0920
Fax: +44 (0)870 743 0922
Email: contractsteam@saracengroupltd.com
Website: www.saraceninteriors.com
A company registered in England. Registration No:12003145