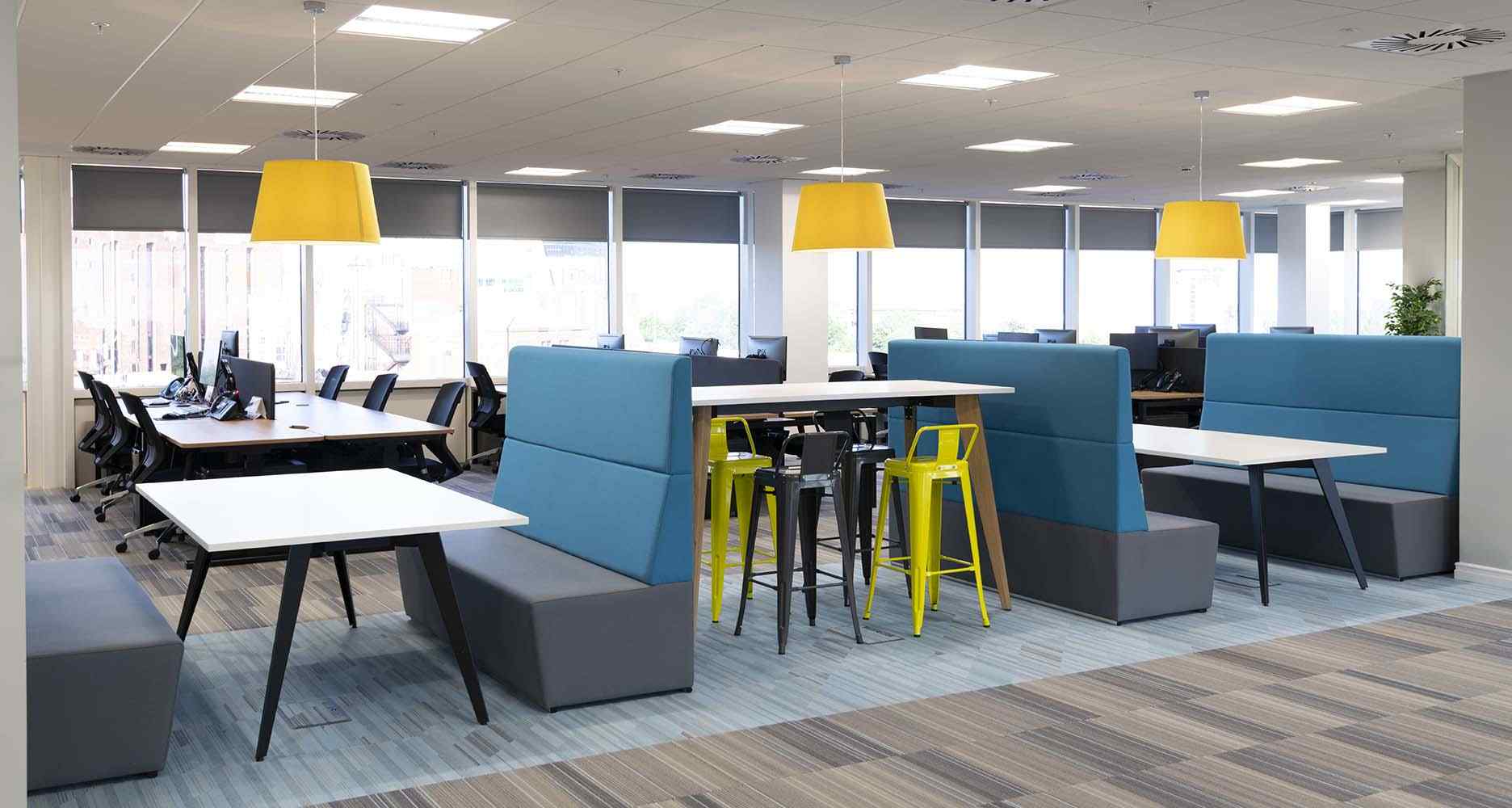 The Ultimate Office Refurbishment Guide
Office refurbishment. Why do it? And what does it involve? The biggest 'why' of all is why to refurb in the first place. The answer is easy - because it isn't a mere extravagance. It's a sure-fire way to make a positive difference to a business, a real difference to your profitability. Tackle things in a logical order and everything becomes clear. Here's our ultimate guide to commercial office refurbishment.
An office is more than an office!
The office has evolved. It's much more than a place to work. These days it's a vital business asset, something that helps you attract and keep the best people. No wonder more and more businesses are refurbishing their workspaces to make them more practical, desirable, comfortable and inspirational.
Knowledge is power – Why refurbish your office?
Your first step is this: decide on the why behind your decision to refurbish. It makes a lot of sense because until you pin down the reason or reasons behind the change, it's almost impossible to decide what actually needs to be changed.
The idea is that you meet everyone's needs, where 'everyone' includes the corporate body itself, directors, management, staff, temps, cleaners, caterers, even potentially suppliers and customers. Only then can you ensure you've taken every single requirement into account.
Maybe your office simply doesn't reflect the brand any more, and you're tired of the disconnect. You might be critically short of space, with old fashioned desks crammed together in a tiny office next to a huge filing cupboard that nobody uses.
There are hundreds of good reasons to get cracking with commercial refurbishment. Whatever your situation, once the 'why' is at your fingertips, you can plan the 'how, what and when'.
Perhaps you have no physical storage space at all, with piles of messy paperwork everywhere
You may have employed a team of remote workers who only come into the office once a week but need hot-desking facilities
You might want to make lots of separate offices out of an open plan premises, or break open a load of little warren-like offices to create a large open space
The business might be expanding or shrinking
You could be merging with another business, acquiring it or reorganising internally
You may have a new board of directors who want to take the business in a fresh new direction
New legislation might force you to refurbish
Company morale might be low because you're working in a tip, and you want to improve morale as well as boost your bottom line
One handy tip: it's sensible to factor your business' goals, aims and mission into the plan, so you take the future into account as well as the present.
Talk to people and identify their issues
You could ask everyone to let you know one thing that they think could be improved. Or survey your employees to get deeper, more detailed insight. You might discover there are never enough meeting rooms, leaving people holding meetings in the corridor. It might be so noisy in your current office that nobody can think clearly, or too hot, or too cold. Being on two floors can mean you never interact with half of your colleagues, and things keep getting missed.
There might be no privacy for important phone calls, or too little space between desks. The current design might actively prevent collaboration and creativity. Maybe it's so dark above some people's desks that they can't see what they're doing. It's great to know, because you can fix all this and more with a creative, reliable, experienced office refurbishment partner.
What signals does a professional refurbishment and fit out send out?
A smart working environment sends all manner of positive signals to employees and customers
Because empty seats are bad for staff morale, a new interior can mitigate the effect and keep people happy
A refurbishment shows your employees that you care about their well-being and happiness
A pleasant working environment makes people feel good, and that means they work better
If your old office is old fashioned, your brand will look dated. A new look brings you bang up to date in a world where first impressions matter
Millions of us spend at least 8 hours a day in the office. Morale and productivity improve no end when the office is a clean, comfortable, pleasant and inspiring place to be, somewhere perfectly fit-for-purpose
A refurb can reveal your strong commitment to new laws and regulations, and make an unsafe place safe
A refurbishment can sends out a powerful 'green' message that helps your business make new friends and influence new people
Now you know the why – Get busy with the who!
Commercial refurbishment is a job for experts. So once you've sorted out the why behind your decision, it's sensible to call in an office design and refurbishment specialist, someone like us. They'll explore your business in considerable depth, looking at its size, purpose, organisational culture, workflow, the types of flexible working and collaboration to take into account, your plans, aims and goals. The best refurbishment experts have checklists of questions to answer, so they leave nothing to chance. They'll go away and create office refurb ideas, ultimately sending you a detailed 3D CAD visualisation, something so real-looking you won't have any problem imagining what the finished office is going to look like.
What kind of changes might they recommend?
Depending on your specific circumstances, commercial office refurbishment covers a broad range of materials, equipment and resources.
A tired, tatty floor, especially when it's carpeted, makes a bad impression – Replace it with laminated flooring, contemporary vinyl or linoleum, even marble tiles or stone
If your office lighting is insufficient or old fashioned, replace it with lovely new lights that brighten the place up and encourage better work
No windows? State of the art lighting can bring something very like real daylight to the premises
It's a looks thing, but it's also about comfort. If your employees spend a lot of time in one position, they deserve the kind of furniture that doesn't damage them or cause pain
Furniture is also an important aesthetic choice. Beautiful, colourful or stylish furniture delivers the wow factor and makes employees feel they're valued
New partitions provide essential privacy and cut noise, as well as looking modern
Workstations need to be placed closer to sockets and other power outlet
You might want to hide all that nasty-looking wiring and cabling behind a suspended ceiling
We consider office heating, vital when the HSE says the office temperature must be at least 16 C where people are working sitting down
The same goes for air conditioning, increasingly important in a fast-warming world
About office refurb costs
Obviously an office refurbishment isn't cheap, nor should it be. The idea is to work within your budget to create a workspace that your people enjoy and appreciate. The cost depends entirely on the size of your premises, and the things you need to change. Having said all that, please feel free to ask us for a quote, no obligation. You might be surprised what good value our services represent.
How will a refurbishment impact your workflow?
The impact of a change like this is partly down to the way you handle it. For a start, it's important to keep everyone informed, including your HR people. Your IT people will need to work closely with your office refurb partner to ensure there's seamless service, or as seamless as possible. If you have a facilities manager, you'll need to factor the in at every stage and make sure their voice is heard.
Your marketing staff are a big asset here, since they'll help us create a workplace that reflects your brand and its values accurately and strongly. And your operations staff will need to know what's what so they can make sure the day-to-day functioning of the company isn't disrupted any more than strictly necessary. Your PA, if you have one, will naturally be perfectly qualified to influence people and help you achieve seamless transitions. And the people who hold your corporate wallet will need to be involved too, to keep an eye on the budget, invoicing and payments.
What restrictions might businesses face when planning?
There are all sorts of rules and regulations to take into account when refurbishing an office. A professional firm will know about all of them, and can help you avoid any legal or regulatory pitfalls. They can include health & safety matters, fire safety, building regulations approval and building control approval, usually needed for new party walls and partitions, rooms, fire escapes, fire escape routes, ventilation and, of course, structural changes. Major building works like construction, extensions or structural alterations definitely need approval from the building regulation people, as can changing the use of a premises.
Let's explore the potential together
Would you like to talk things through with an expert on a no-strings basis? Contact us and we will be pleased to help you come to a sensible, cost-effective decision.