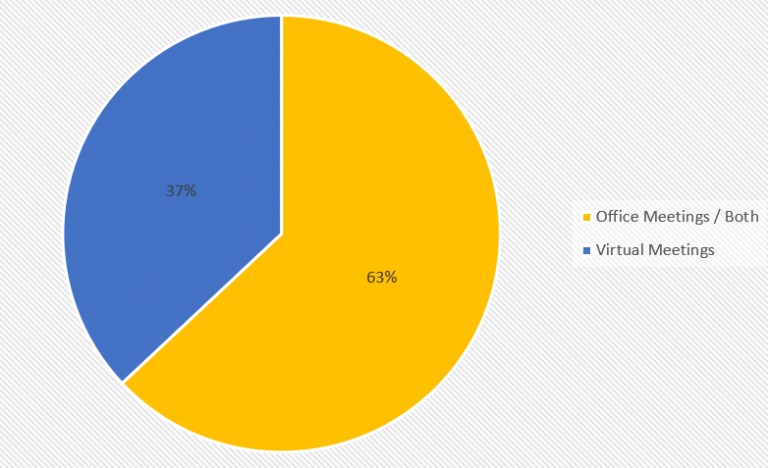 Virtual vs Office Meetings…. The Debate?
This is convenient and can connect everyone from all over the world. Does this however always work? We recently conducted a survey over social media and with various clients we have worked with over the years and answer may not be quite what you think.
In our simple survey around 37% of people would be happy to continue with virtual meetings while 63% would prefer meetings in the office or a mixture of both. A number of factors influenced their decision however the main feedback we received was below:
Industry – many industries find it difficult to hold virtual meetings, construction for example where large drawings or programmes need discussing. This can prove to be quite difficult to achieve online
Size of meeting – larger meetings people find that it becomes difficult to hold a conversation without interrupting especially when considering freezing computers and varying internet speeds.
Surroundings – many of us have created home office, however with many of us working from home we become entangled with other family members of the household which often becomes a struggle to find some quiet space
Client relationships – Once again depending on industry but in general it is far more personal to visit a client face to face to develop the relationship. Virtual meetings can be very convenient to fill in gaps and keep in touch but face to face meetings are very important.
Cyber Security – various industries have to adhere to extremely strict rules which are often difficult to implement on all sorts of home networks.
As we move forward from the 2020 COVID-19 pandemic there will be a huge shift in how we use office spaces and how we work however it does seem that people do like to meet up face to face to discuss there business. This can in many circumstances be far more productive but also far more personal. Departments enjoy collaborating, discussing , having a laugh with their colleagues and this can often help the work / home balance.
There will be far more flexibility in working from home and the office and office designs may change drastically.
The office could become more of a collaborative space for meetings whether it be internal or client facing, projects, socials and general team building.
We are working with a number of large business to adapt their office designs to suite this more flexible way of working. Engaging with staff to analyze the best use of the office space and flexible working.
There was a time when we did not have email, laptops, mobile devices. Offices were the only space where business could be conducted. We have moved into a very virtual world but it seems many of us still prefer the 'old fashioned' office environment at times!
A recent interview with the Chief People Office at Zillow property constulatns would suggest the same sentiments. A flexible approach with a shift in the way people interact and use their office space.
CEO – of the IWG– Co working space providers – Mark Dixon shares the same comments in various interviews the latest on CNN last week. The giant has reported a massive drop in demand for the past 6 months however believes that businesses are slowly putting new flexible working procedure into place. Offices and the design of the spaces are becoming social hubs and far more collaborative.