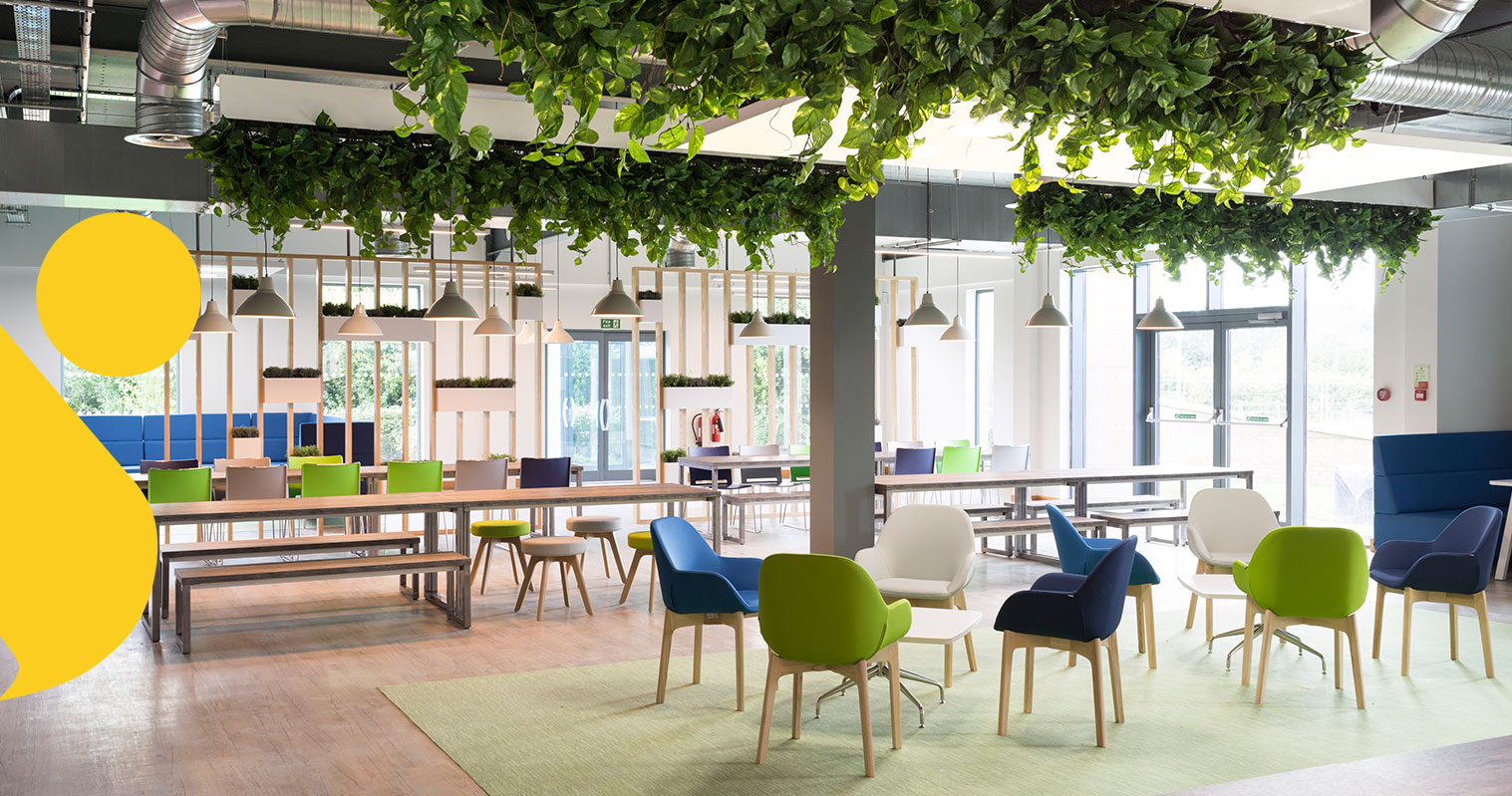 What Is A SKA Rating & Why Is It Important To Your Workplace
Sustainability has never been more important than it is today. And with non-domestic buildings producing around 18% of the UK's total carbon emissions, there is an increasing expectation on businesses' to lead the fight against climate change, safeguarding the environment for future generations.
The good news is, through savvy office design and adopting good practice during the fit-out process, businesses' can improve their sustainability, not only benefiting the environment but also resulting in long-term financial savings - as well as numerous other benefits. And that's where SKA rating comes in.
Within this article we look at SKA rating; what it is, why it's important and how it can benefit you as a business, landlord or tenant:
What is SKA Rating?
Established in 2009, SKA rating is the "environmental assessment method, benchmark and standard for non-domestic fit-outs", led and owned by the Royal Institution of Chartered Surveyors' (RICS).
SKA rating covers 104 individual measures of good practice across eight sustainability issues, namely; energy use and carbon dioxide emissions, materials, waste, water, wellbeing, pollution, transport, and other. Within the SKA rating methodology, the criteria of each good practice measure is outlined, as well as the rationale behind the measure and guidance on how to achieve it.
Each of the individual measures of good practice are ranked from 1 to 104, relative to the other measures. A ranking of one has the largest environmental benefit, whilst a score of 104 has the lowest benefit. This is important as it can be used to help a design team scope a project, working towards a maximum 'sustainability score' within a set budget.
The guidance on 'good practise' and SKA rating levels is widely available, alongside an online self-assessment tool. However, formal certification can be acquired by commissioning a RICS SKA accredited assessor.
Because each office fit-out project is unique, SKA rating only scores the project on good practice measures that are relevant to the project. However, it's worth noting that for a formal assessment to take place there must be a minimum of 20 individual good practise measures within the fit-out project. Once the fit-out has been scoped, the assessment is then carried out in three stages covering; Design, Delivery and Occupancy, resulting in the project being awarded a rating of Bronze, Silver or Gold.
SKA rating vs. BREEAM. What's the difference?
SKA is not the only environmental assessment tool available. Established in the 1990's, BREEAM is the globally-recognised 'Building Research Establishment Environmental Assessment Method'. Whilst there are some similarities, SKA is different in that it is project driven and is only applied to the office fit-out, irrespective of the base building (which is taken into consideration within the BREEAM assessment). As such, SKA is the only tool which measures what is within the specific project scope.
Why is SKA important in the workplace?
Using SKA rating and adhering to their good practise measures within your office design will result in a more sustainable fit-out, helping to reduce the environmental impact of business, one office at a time. However, there are other benefits of using SKA rating levels on the workplace including:
Reducing Carbon Emissions and Operating Costs - one of the key benefits of adopting and adhering to SKA's environmental good practise is the potential reduction on operating costs through improved efficiency, energy savings and potential tax breaks (such as Enhanced Capital Allowances)

Improving your brand image - green credentials and demonstrating a commitment to sustainability have never been more important. Achieving a SKA rating certificate sends a clear message to your customers, clients and stakeholders, demonstrating that your company takes sustainability seriously. Not only that, but with millennial employees placing an increasingly high value on a company's green credentials, a good SKA rating will undoubtedly help to attract future talent

Promoting wellness in the workforce - one of SKA's criteria relates to the provision of a healthy office environment which supports employees wellbeing. Adhering to best practice in this area and promoting wellness within the workplace can help to increase staff morale, resulting in a healthier, happier and more productive workforce

Links to other standards - a SKA certificate ensures that a fit-out is executed to a guaranteed standard and can be used to support environmental management systems, such as ISO 14001

Increasing your asset value - RICS reports that '

there is an increase in the asset value of labelled low-carbon buildings compared with standard speculative buildings

'. Broken down, this means that by adhering to SKA rating and improving your offices' sustainability, you can potentially increase the value of your asset
Sustainability has never been more important than it is today, with the spotlight on businesses' to improve their practices and reduce their carbon footprint. By adopting SKA rating during your office fit-out, you can improve your businesses' sustainability.

It's good for the environment and improving the sustainability of your business can also reduce operating costs, improve staff productivity and increase the long-term asset value of your office - so it really is a win-win. If you're currently considering an office fit-out, contact us and we'd be delighted to advise you about how SKA rating can benefit you.