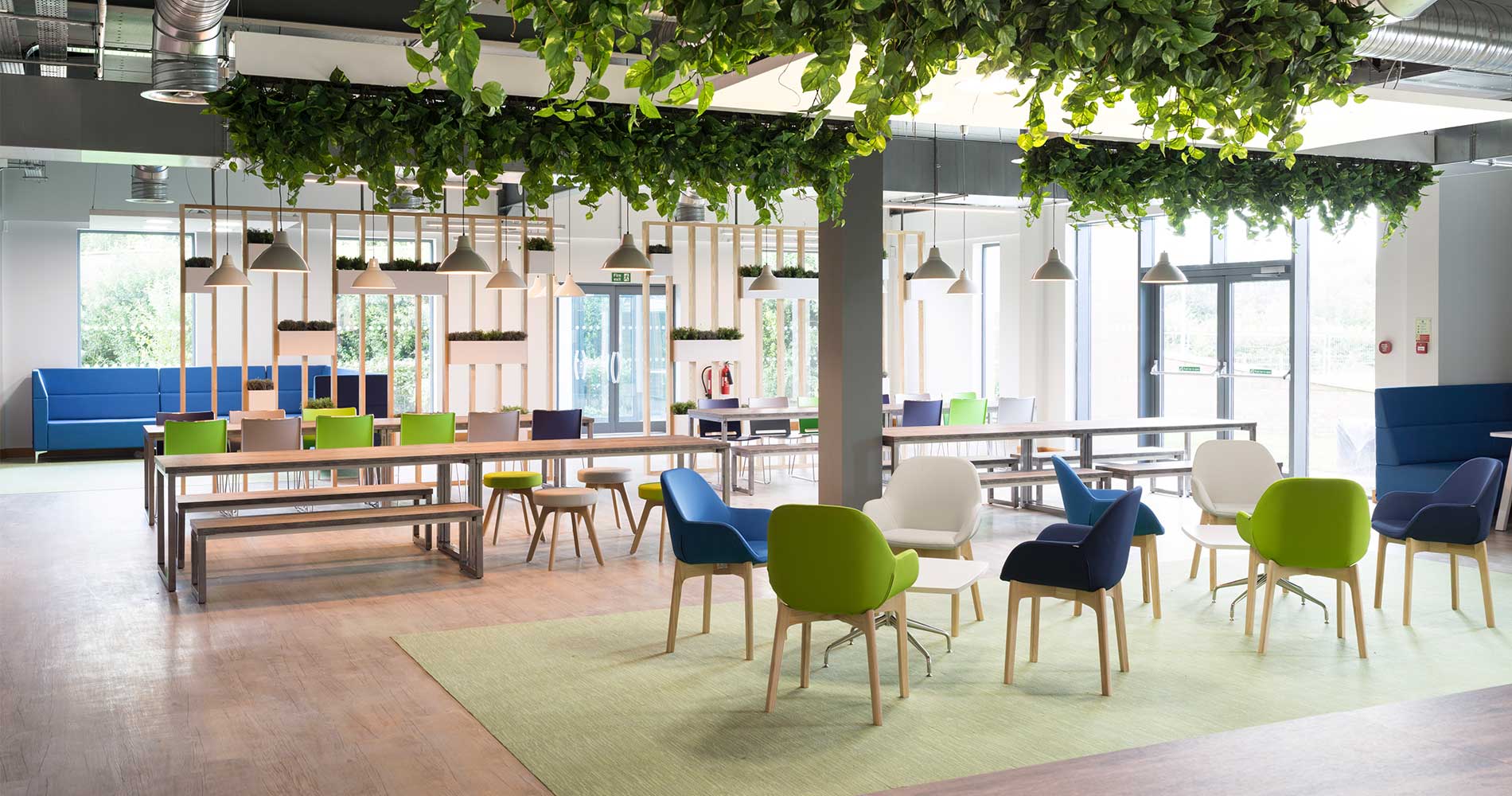 Office Design Trends You Should Be Considering In 2019
Proven to contribute to the happiness and productivity of your workforce, office design has never played a more critical role in the success of your business than it does today. And with a whole new generation of employees, the rise of new technologies and the way in which we work constantly changing, office design continues to evolve and adapt to meet those needs.
So whether you're planning a new office or updating your existing premises, here's our top office interior design trends 2019:
Experiential Design: Give them an experience
The days of bland office design are well and truly over. Today's employees are no longer satisfied with endless rows of utilitarian desks and the monotonous, beige working environments' of yesteryear. Instead, they hope for a unique, inspiring and engaging workspace, packed with personality. That's why we expect experiential design to be one of the key office interior design trends in 2019.
Much more than adding a token pool table and a couple of bean bags to a far-flung corner of the office, experiential design is about transforming spaces and bringing your brand culture to life. It tells the story of who you are to both internal and external stakeholders. And if done well, it is proven to cultivate happiness, as well as improving overall employee engagement and productivity.
From Google's well-publicised putting-greens and rooftop running track to horizontal breakout pods at Skyscanner's' London HQ, there are a number of ways to bring your brand personality to life through experiential office design. And whilst these spaces and 'experiential design features' are typically bespoke and unique to each company, one common theme we expect to trend in 2019 is companies integrating designated wellness areas into their office design. With employee's mental health at the core of the brief, we've already seen a rise in the installation of office quiet zones, where staff can retreat to read or take a minutes' pause.
Upgrading your office with experiential design can transform your environment, excite and engage employees, as well present your brand culture to the outside world - helping to attract future talent. So ask yourself. What does your office currently say about you?
Keep it green: Inside and out
Today's employees want their company and workplace to reflect their values. And in 2019, that means keeping it green.
Adopting environmentally friendly office design and solutions is not only 'cool' in 2019, but it can also benefit you as a business through energy cost savings. So a double win. From smart lighting to rain harvesting systems and energy- efficient windows, you'll be surprised at how much you can reduce your companies carbon footprint, whilst improving employee productivity and morale.
Meanwhile, Biophilia has been a popular trend over the past few years and it is set to continue throughout 2019. Biophilic design focuses on bringing nature indoors with the general consensus being, the greener the better! Living walls and moss walls are growing increasingly popular and not only look stunning, but can actually improve the air quality within the office, boost mood, as well as increasing employees' productivity by a reported 10 - 20% (depending on what study you read).
Flexible Workspace: Adapt and collaborate
With continuing advances in technology and the rise of flexible working, employees are now able to work remotely from anywhere in the world - meaning they don't need to be stuck behind a desk 24/7.
It's because of this, we predict 2019 will be the year of space prioritisation. One example of this is companies installing designated remote working zones, where furniture is flexible and can be moved or easily rearranged to meet the immediate needs of the employees. This will be particularly prudent within small office design, where space is limited but can be optimised to ensure maximum efficiencies within the workforce are met.
Communal areas are also on trend, as employees move away from their desks and out of 'glass box meeting rooms', instead preferring to meet in communal areas for less formal meetings. It's a trend widely agreed to improve productivity and staff morale, so it's a bandwagon we believe is worth jumping on.
Colour: Pick your palette
The psychological effects of colour have been studied for years and, used well, can have a positive effect on productivity, creativity and communication within the workplace - which is why picking the perfect palette is such a key trend in today's office design.
Natural shades, energizing corals and saturated moody hues are at the top of the charts in 2019, as companies adopt a more "lifestyle-based" approach to colour in the workplace. Alternatively, we suggest weaving your brand colours into your office design, which is proven to help employees connect with the company and strengthen your brand image.
You can go bold with statement walls and carpets or take the subtle approach with flashes of colour within the furniture or decor. But a word of caution. Be mindful of where you use colour, matching the shade with the culture you want to cultivate. For example, green is said to be calming, so would be well placed in a breakout area. Meanwhile, blue is proven to inspire creativity, so could be the perfect backdrop for your new meeting space.
Other office interior trends to keep an eye out for:
Ensure its secure. With

General Data Protection Regulation (GDPR)

the undisputed hot topic of 2018, security will undoubtedly play a key role in office interior design in 2019. The way in which businesses' are now required to store sensitive data has changed, so we expect to see an emphasis on clutter-free workspaces, the installation of personal storage and privacy being the main consideration within office design briefs

Industrial revolution. Exposed ceilings, graffiti style signage, pendant lights and brick-effect walls are all expected to popular within office interior design in 2019
Regardless of industry, an inspiring office is crucial to motivating and engaging your employees. Not only that, but good office design can also help reduce your company's carbon footprint, improve profitability and attract future talent. In short, it is a critical element in the success of your business. So, whether it's the addition of experiential design features, eco-friendly updates or integrating flexible work solutions, let us help you transform your office in line with 2019's top office design trends.