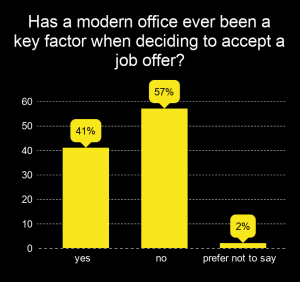 43% of Office Workers Reject Job Offers: Uninspiring Offices
Your workplace says more about your business than you might ever have imagined, not only where clients are concerned, but also potential new recruits – almost half of all employees say a modern office is a key factor in deciding to accept or reject a job offer, while just as many say they've rejected job offers due to uninspiring offices.
If you want to hire, and keep, the best staff for your business, the promise of a laptop and dress-down Fridays is no longer enough. Modern office workers need to feel inspired by their surroundings, with open plan desks and breakout areas designed to spark conversation and creativity.
So, if your office is more Slough paper merchant than Silicon Valley, here's why could be time for a redesign.
A modern office is key to recruitment and retention
It's no secret that a clean and modern office space is key to impressing potential clients – that's why those business owners with dull and drab workspaces will often meet clients at much more impressive looking neutral venues.
But a new study from Saracen Interiors, the UK's leading office design and interiors specialists, has found that the working environment is a key consideration for both existing office staff and new recruits alike.
The study gathered the thoughts of UK office workers and found that, on top of 41% saying a modern office is a crucial factor in whether they accept a job offer, 43% have actually rejected job offers due to an uninspiring workplace.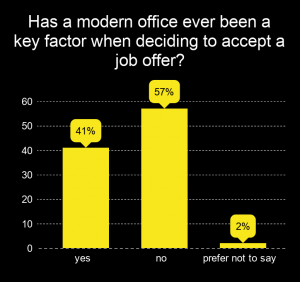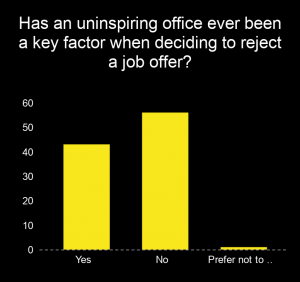 And it's not just new recruits you need to worry about, as 39% said a dull office was one of the main reasons they left a previous position, while almost a quarter (22%) said they'd actually take a 10% pay cut to move to a modern office.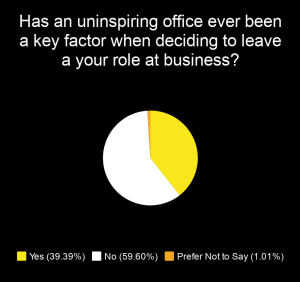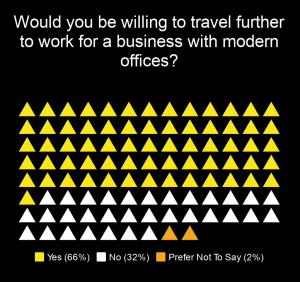 Of the office workers surveyed, half (50%) said they research potential employers to see what kind of office they have before deciding to apply for the role, while two-thirds (66%) admitted they would be willing to travel further for a role in a modern office.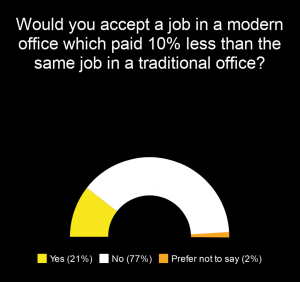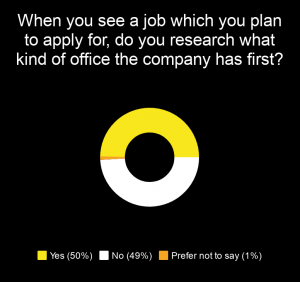 But why is a modern office so important? It's all about mental well-being and productivity.
A modern office is key to well-being and productivity
UK workers are taking fewer sick days than ever – the latest figures from the Office for National Statistics show that the average number of sick days taken by UK workers fell to 4.1 days in 2017, a sharp decline from the 7.2 days recorded in 1993 when the data was first collected.
The most common reason for taking a sick day is a minor illness, such as a cough or a cold, which makes up a quarter (26%) of the total, while back and joint pains are the next biggest source of absence.
A modern office space can help eliminate these problems – new, ergonomic chairs and workstations can help with back and joint pains, while a bright and inspiring workplace could make all the difference between employees choosing a day in the office over a day under the duvet.
And where a bright, modern, open-plan office can help with both physical and mental well-being, it can also promote greater productivity.
Although UK employees are working longer, harder and faster than ever, productivity seems to be stagnating, according to the findings of the 2017 Skills and Employment Survey.
Released in October 2018, the survey showed that almost a fifth (18%) of employees identified changes which, if implemented, would make them a great deal more productive, and workplace design is an area which is often overlooked when analysing the causes of low productivity.
In reality though, a well-designed workplace can make it easier for employees to collaborate and work together more creatively, with breakout areas providing a great place to meet and generate ideas, all of which can have a positive impact on health, wellbeing, engagement and motivation.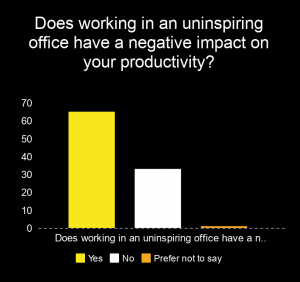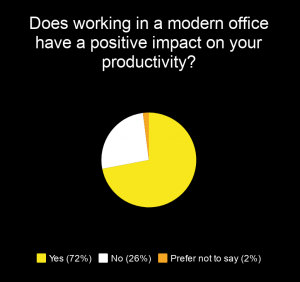 Commenting on the survey's findings, Mike Page, CEO at saraceninteriors.com, said: "It's clear to see from the survey results that business owners should be thinking more about their office design and how it appears to prospective employees when recruiting. In addition, and perhaps more importantly, employers should consider what impact their working environment has on their existing employees' mental wellbeing, stress levels, and productivity."
If you think it's time your office had an overhaul, or you need some advice on how a few small changes could make a big impact in your workplace, get in touch with our team of experts by calling 0125 233 9438, or emailing us at enquiries@saraceninteriors.com
Header image credit - Ted.com