The hotel and leisure sector has impacted enormously on the office fit out market in the last couple of years. Designers and clients are now keen to copy particular trends and styles common to the hotel industry, while business owners, office managers and FMs are acknowledging an increasing need to incorporate leisure facilities in the office environment.Once you throw into the mix concern for employee wellbeing and the current competition for the most stylish offices in any given sector, it becomes apparent why the hotel and leisure industries are setting the trends.
Traditions of hospitality are rooted in comfort and high design – chic interiors, superior furnishings - so it's no great surprise that the more upmarket hotels are bearing the standard for office spaces in a climate which values both.
Think of the hotel lobby with its comfy chairs, access to wi-fi, sections split off for privacy and discretion and its coffee and bar areas. Looking at that description more closely, I could be talking about any number of office interiors that Saracen has worked on and is working on at any given time.
It's a checklist that has started to become a standard in commercial fit outs, reflecting a general raising of the bar.And then there's the branding aspect. Many hotels also have signature styles, which have helped to build their brands and make them instantly recognisable.
Commercial interiors are now seeking to do the same and the bigger names, who have offices in multiple locations, commonly seek a house style that is uniform and identifiable with their brands and that can run across all properties in their portfolios.Good design has risen to the fore and more and more businesses are following the example set by those in younger industries like digital, IT and creative media and are wanting office spaces that will inspire and stand out.
Boutique hotels, in particular, are fore-runners in all that is desirable and stylish. All members of our team keep a look out for what's new and eye-catching, whenever they have cause to travel, and have an endless source of references for when they are scoping out a job.
Sleek, styled back environments, with feature walls using darker, muted colours are on trend at the moment, providing a popular choice for a few.
This is a look directly influenced by the boutique, higher end of the hotel market. It's not for everyone but, in the right setting, it's particularly effective and has the preferred impact.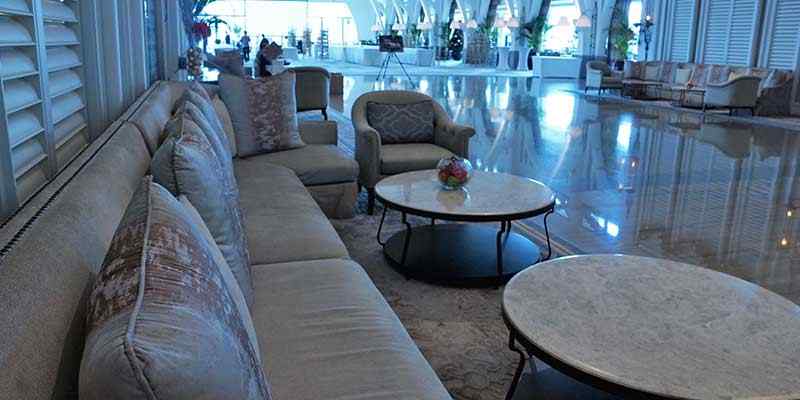 Hospitality design has always carried an influence beyond its own boundaries and its concepts, that are associated with luxury and relaxation, currently wed it to our own office environments.And so, as long as we're obsessed with pushing to create the best office interiors, we will continue to pillage hotel and leisure for their ideas. Influences from the hospitality arena simply give us more scope, adding more colour to our palettes overall.